Schneiter's Bluff Golf Course –
Call (801) 773-0731 to signup or for more info.
2020 Summer Junior Golf Program:
JUNIOR GOLF LESSONS
This is a four-day program designed for the junior golfer with little or no previous experience. Instruction in grip, stance, and the basic swing, along with proper golf etiquette and safety.
This introductory level program is perfect for the younger junior players and those who may never have been exposed to the game before. The cost for the four lesson series is $40 per junior.
See schedule below for dates.
Short Course – Intro to Playing Series
The Intro to Playing Series is designed for the junior that has been through our lesson series program and is now ready to transfer what he or she has learned on the range and apply those principles to the golf course.
Here each junior will learn the fundamentals of playing a round of golf on the Schneiter's Bluff 5 Hole Short Course. Lessons such as etiquette, rules, safety, order of play, scoring, and many other valuable principles of playing will be taught by instructors accompanying each group.
Pre-requisite for Short Course playing series is Jr. Lessons.
Dates: See schedule below
The cost is $40.00 for the 4 lesson/playing series and it includes green fees for the Short Course.
---
BLUFF JUNIOR ASSOCIATION
Schneiter's Bluff youth tournament series is designed to introduce junior players to competition. Several age groups will be included with the course played and yardages adjusted accordingly. Tournaments are scheduled each Tuesday beginning June  6th.  Weekly sign in will be at 7:15 a.m., and play will begin with a shotgun start (all start on different holes) at 7:30 a.m.  The junior golf association will run throughout the summer.
Weekly Junior Play Format:
Juniors will be taken out to various holes at 7:30 a.m. each week. They will play a shotgun start in groups and will be allotted 15 min per hole to complete that hole. After 15 minutes a horn will sound and they will move to the next hole. If they were unable to complete the previous hole in 15 minutes, they will move up a set of tees for their next hole and tee off (unless their next hole is a par 3) If they are unable to finish a complete 9 hole round, they will take their total over par score for the holes completed and divide it by the number of holes played and add that under/over par score to 36 to complete their score.
Juniors ages 8-17 are eligible. Cost for the Junior Golf Association is $20.00 to join and $8.00 each week for green fees. Tournaments will be divided into age groups. Prizes will be awarded to each player. The goal of the association is to get players familiar with the golf course and basic rules of play, etiquette, safety, sportsmanship and scoring.
The junior association is for young men and women who have a knowledge of the game, rules, safety, etc. They will be playing in a non-supervised environment, so knowledge of the game is imperative.
Parents are encouraged to walk with their child to help with pace of play, rules, safety and etiquette.
We would ask that new players who sign up for the association have previously completed one of our junior golf lessons and short course clinics.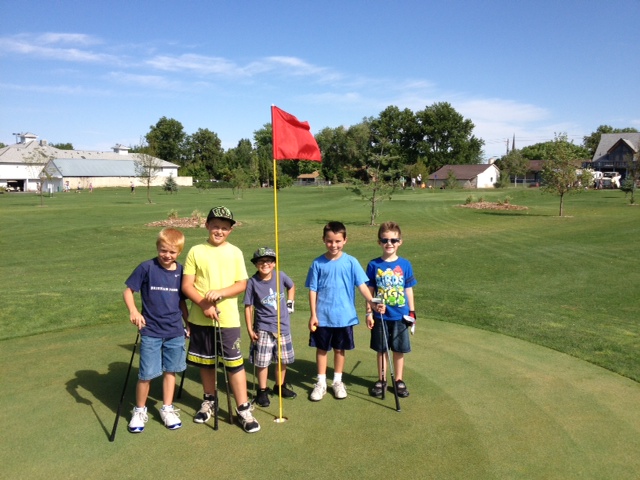 For more information or to sign-up:
Phone: Schneiter's Bluff GC at 801-773-0731
Programs directed by: PGA professional Jon Schneiter and Ken Cromwell